Tanger Ibn Battouta Airport

Tanger Ibn Battouta International Airport is located in Boukhalef, about 12-13 kilometers  in the Southwest of Tangier city. With an area of 12,000 m², it offers a capacity of one million passengers per year. The inauguration( July 2008) allowed the Airport to grow significantly by offering more flights and increasing its passengers' capacity. Ibn Battouta Tanger Airport is ranked in the fourth place in the kingdom regarding passengers' traffic.
Currently, 16 airlines serve Tangier Ibn Battouta Airport.The most popular are: Royal Air Maroc, and JetairFly and Vueling. There are also other airlines such as Air Arabia Maroc, Air Norstrum, Brussels, Airlines, easyJet, Portugalia, Saudia,  Corendon, Germanwings, and TAP Portugal…
These airlines connect Tangier city to over 14 destinations including Casablanca, Madrid, and Barcelona, ​​Paris, Marseille, and  Amsterdam, Brussels, Charleroi, and  London and Cologne, etc.
The most frequent flight from Ibn Battouta Airport is towards Marseille Provence Airport.
The taxi station is located at the exit of the airport whereas the trip to the city center takes 20 minutes, and costs about 100 Dirhams.
Fez Saiss Airport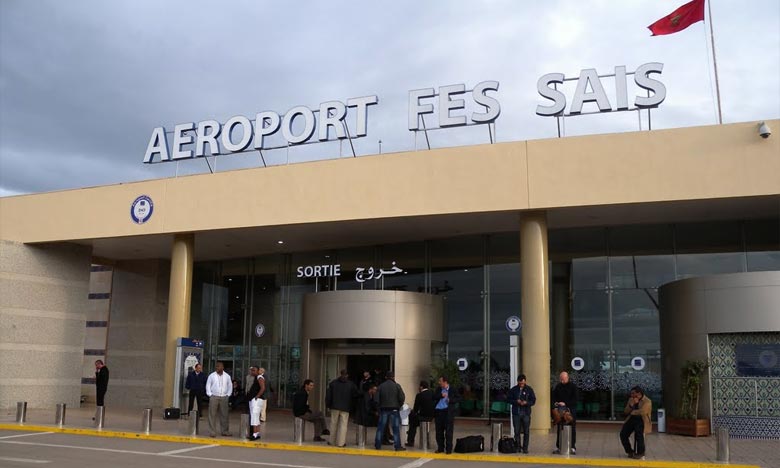 Fez Saiss Airport is located about 10 kilometers in the South of Fez, at the N8. Fez Saiss International Airport has a terminal with an area of 5,600 m², and a capacity of 500 000 passengers per year.
The city is served by eight airlines: Royal Air Morocco and Vueling are at the top. Add to that, Corendon, easyJet, and Ryanair, Iberia, and Saudia and JetairFly.
The most frequent flight from Fez Saiss Airport is towards Barcelona El Prat's Airport.
Taxis are available just outside the airport to get to Fez city downtown for 150 dirhams.
Convivial spaces offered by ONDA in Moroccan Airports for the travelers' well-being 
Banks and exchange
Banks and exchange offices are located at the airport and they are open every day from 8:30 to 16:00. Travellers can exchange their currencies, and easily withdraw money  for their stay.
Sanitary facilities
The airports have toilets and arranged corners  for children. These tables safely facilitate diaper change for babies and children.
Shops and stores
Within the airports, you have the option to do some shopping in the souvenir shops before leaving the country.
Post offices
Post offices are available to those who want to ship some goods,  buy stamps or post cards…
Parking
The airports have secure parking lot with a large capacity arranged for cars, for long and short-term.
Restoration
Cafés and restaurants allow passengers to get distracted, and have a meal while waiting for their flight.
Hotels near the airport
If you want to relax after your flight, you can go to the hotels that are near the airport.
Services adapted to travelers with specific needs
The car parks at airports can host travelers with specific needs.
The airports' entrance gates are automatic and spacious.
Airports' elevators are wide and designed to hold wheelchairs.
The airports are equipped with  adequate sanitary facilities for the travelers with specific needs.
Dog Guides of passengers with sensory or physical disabilities can join their master in the cabin, if only they inform the airline when purchasing the ticket.
The airports are equipped with elevators and automatic stairs (treadmill) for an easy access to all floors.
Car rental at Airports in Fez and Tangier
Abid Cars car rental agency offers you a wide range of rental cars in Tangier and Fez, and offers a FREE delivery of your rental car at Ibn Tanger Battuta Airport and Fez Saiss Airport between 8:00 and 20:00. Enjoy your stay  in the White City of Tangier or in the spiritual capital of Morocco, Fez!!